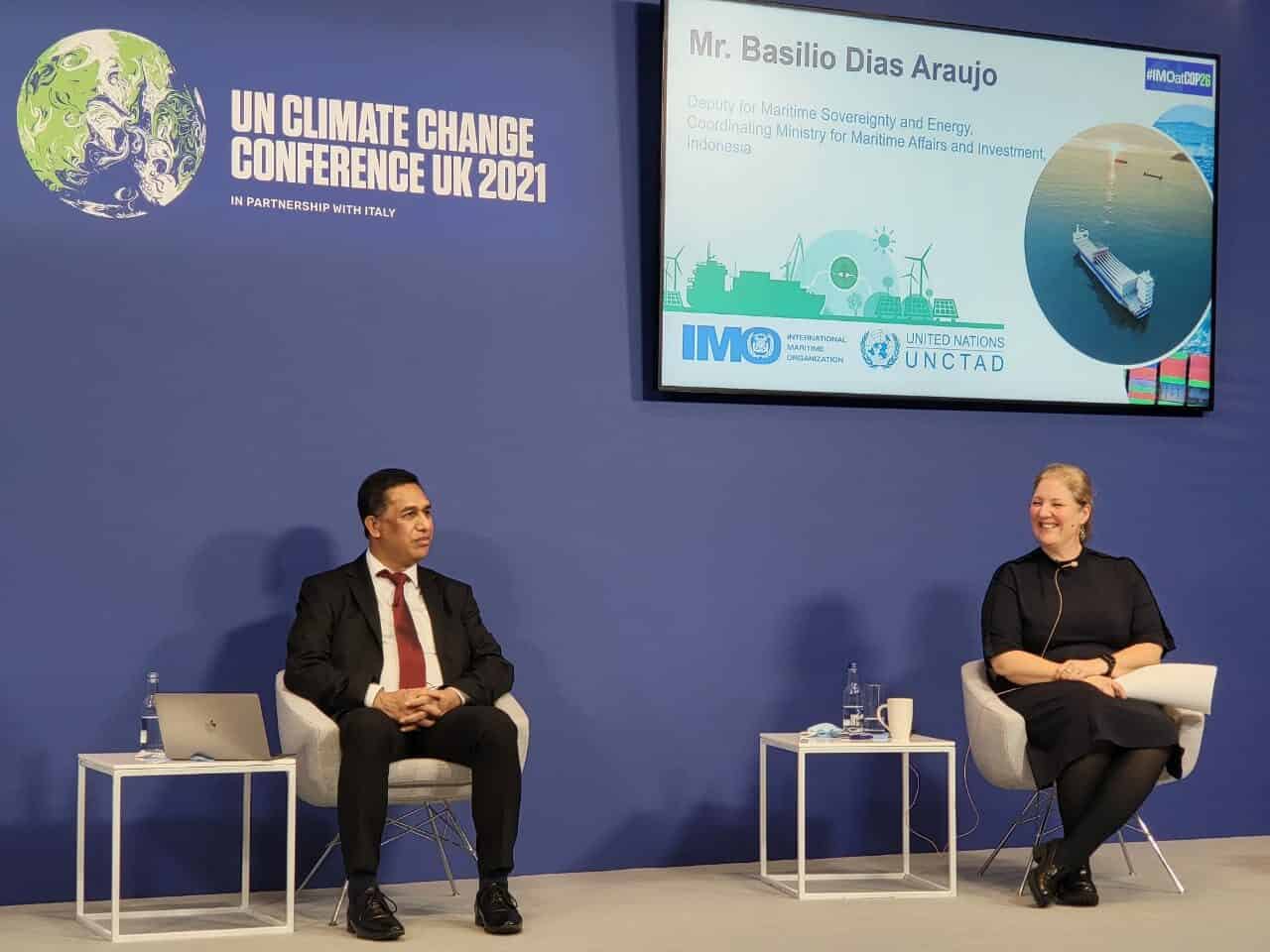 SIARAN PERS
No.SP-718/HUM/ROKOM/SET.MARVES/XI/2021
Marves-Jakarta, Speaking on behalf of the Coordinating Ministry for Maritime & Investment Affairs, Deputy Minister for Maritime Sovereignty and Energy Basilio Araujo continues to escort zero-carbon fuel transition effort and ensures the readiness of Indonesia's strategic port to become "Green Port". It was delivered by Deputy Basilio on Wednesday (11/10),  during IMO-UNCTAD Side Event Talkshow Event at Cop26: Seizing Opportunities for Developing Countries in Providing Zero-Carbon Fuels to Global Shipping.
"We continue trying to fulfill Indonesia's commitment," said Deputy Basilio Dias Araujo at the Discussion Forum, which was attended by representatives from various IMO member countries.
Indonesia has renewed Nationally Determined Contributions (NDC) in July 2021. "Regarding the issue of Decarbonization Shipping, NDC Indonesia reported that shipping contributes 19% of CO2 emissions in Indonesia. The emissions produced by the number and various type of ships sailing in Indonesia," according to Deputy Basilio.
Indonesia has 39.510 cargo ships and 171.754 fishing vessels registered in the national database. The majority of cargo ships and fishing vessels in Indonesia are small in size. The number of Indonesia's fleet is too small compared to the world fleet's 2.1 billion DWT, as reported in the UNTACD Handbook of Statistics in 2020.
"Around 200.000 of the world fleet's pass-through Indonesia's three strategic straits, the Malacca Strait (130,000 ships per year), the Sunda Strait (56,000 ships per year), and the Lombok Strait (33,000 ships per year). These results in millions of tons of CO2 being released by these fleets as they pass through Indonesian waters," Deputy Basilio explained.
Deputy Basilio noted that despite the contribution of millions of tons or even gigatonnes of carbon emissions from ships passing through Indonesian waters, Indonesia as a coastal country and the world's largest archipelagic country continues to do its mandatory.
"Our National Oil Company started to produce Low Sulfur Marine Fuel Oil or LS MFO to fuel our national fleet," he said.
In addition, Basilio also said that the government even started providing LS MFO for international shipping in August 2021, with a launch at one of the Bulk Cargo Ports at Krakatau International Port (KIP). "Pertamina Indonesia is preparing four LS MFO terminals to serve the international fleet in the Malacca Strait. We look forward to collaborating with international partners to construct additional refineries to provide LS MFO for global shipping in our strategic Strait. In national level, Indonesia is also introducing B20 and B30 for land and air transportation at the national level," said Deputy Basilio.
The GOI will also convert small ships from using fuel oil to using gas fuel (BBG). This program is for fishermen with fishing vessels weighing 7,812 metric tons. "We are also now introducing Rooftop Solar, which will be installed in all of our ports to provide green energy," Basilio continued.
He believes that Indonesia is capable of fulfilling its commitment, however, it will require the collective cooperation and collaboration from all stakeholders in the domestic maritime and energy sectors, as well as international organizations such as the IMO, UNCTAD, and the World Bank.
"I hope IMO assist us in our efforts to promote low-carbon technology. IMO can facilitate public-private partnerships and information exchange, technology transfer, maritime human resource capacity building, technical cooperation, and a variety of programs to improve energy efficiency in ships and shipping activities," Deputy Basilio said.
In his view, IMO could also be able to assist with funding and technical innovation, as well as capacity building. "It is one step in implementing the IMO Strategy through the ITCP and other projects like as the GloMEEP project and the MTCC network," Deputy Basilio stated.
Previously, President Joko Widodo declared commitment to reduce emissions by 29% before 2030 during the COP-21 in 2015. Furthermore, he also stated that the Government of Indonesia (GOI) would reduce emissions from 2020-2030 by 29% (unconditional) to 41% (conditional) with a business as usual scenario in 2030, a 26% increase in unconditional commitment from 2010.
For an information, this Talkshow Session was moderated by Chief Department of Partnerships and Projects IMO Jose Matheickal, and also attended by speakers: Deputy Secretary-General UNCTAD Isabelle Durant, Acting Global Director for Transport, and Manager of Global Unit in the Transport Global Practice World Bank Binyam Reja, CEO Global Marine Forum Johannah Christensen, Principal Secretary State Department for Maritime and Shipping Affairs Kenya Nancy Wakarime Karigithu, Senior Advisor Economic Acceleration & Special Projects, Office of the MEC for Economic Development, Environment, Agriculture & Rural Development, Gauteng Provincial Government South Africa Jak Koseff, and Unit head for New Energy Carriers Division for Fuels and Energy Carries Ministry of Energy Chile Camilio Aviles Arias.
Bureau of Communication
Coordinating Ministry of Maritime Affairs and Investment
Terkait