Donggala — Milk fish farms in Donggala, Central Sulawesi have been developed within inter tidal areas. This is so in order to take advantage of the natural inflow of tide making the use of pumps unnecessary.
Coordinating Ministry of Maritime Affairs wanted to bridge the innovation of milk fish farming to broader segment. Innovation which has been developed by the Head of Marine and Fisheries Service Mr. Hasanudin Atjo was expected to increase production up to 700% or 7 times higher compared to conventional method.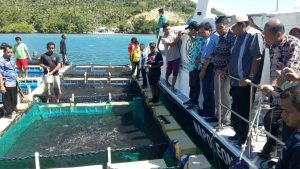 Deputy Assistant TB Haeru said in written statement that his team recent visit to Donggala is to review this innovation from multiple aspects such as technical aspect, feasibility, etc. "This innovation should improve local economy, that's the point"
The innovation itself has proved that one hectare can produce 210 tons of fish, while from the same size area only produce 30-40 tons if using conventional method. The innovation has included the placement of fish farming in the coastal area which naturally rich of oxygen. The coastal current also help milk fish to swim along. Milk fish are well known fast swimmers. School of fish packed up in relatively small cages often resulting stress, however coastal currents improving the water quality thus the fish can grow more rapidly and stress –free.
"Those fast swimmers can be maintained in a higher density." Said TB Haeru. Hasan Atjo also add floating meal to the milk fish diet. "Those are made of rice bran, it floats, it's natural, and plastic free" Plastic free is important since recent study showing that more and more fish contained plastic in their system.
"Milk fish is not expensive, it's nutritious, it has omega 3 higher than (imported) salmon"
Furthermore The Coordinating Ministry will continue its support in the field. "Increase production is one thing, but furthermore we are expecting the innovation will generating more income specifically for the coastal region"***