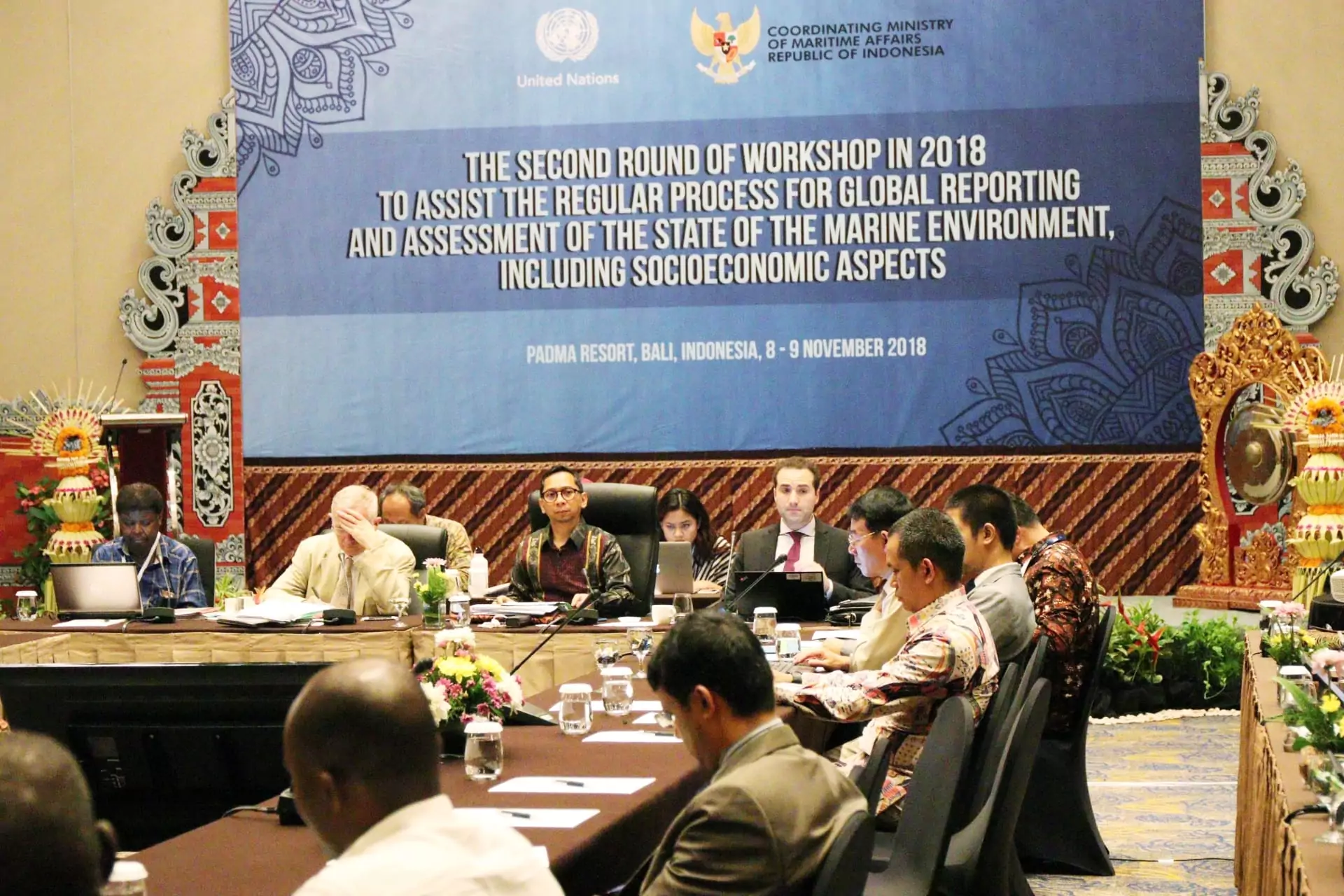 Around 60 people coming from different backgrounds, such as ocean scientist, experts, academics, UN representatives and Indonesian government officials gathered in Bali to actively participated in the Second Round of Workshop in 2018 to Assist the Regular Process for Global Reporting and Assessment of the State of the Marine Environment, including Socioeconomic Aspects.
The workshop was a two-day workshop, held on 8 -9 November 2018. Experts whom attending the workshop coming from the region of Indian Ocean, the Arabian Sea, the Bay of Bengal, the Red Sea, Gulf of Aden, and the ROPME/RECOFI area.
Mr. Purbaya Yudhi Sadewa, the Deputy Coordinating Minister of Maritime Affairs of the Republic of Indonesia, accompanied by Mr. Alan Simcock, Joint Coordinator at UN Group of Experts of the Regular Process, Mr. Marco Boccia, Representatives of United Nations Division for Ocean Affairs and the Law of the Sea (UN-DOALOS), and Deputy Governor of Bali Province, officially opened the workshop. The whole agenda of the workshop then was co-chaired by Mr. Ayodhia, G.L Kalake, Director for Delimitation of Maritime Zones, Coordinating Ministry of Maritime Affairs of the Republic of Indonesia, and Mr. Marco Boccia.
The workshop itself was designed as a venue for the collection of regional-level information and data for the preparation of the second world ocean assessment, to build capacity and to facilitate outreach and awareness-raising. While the regular process has an objective to improve understanding of the oceans and to develop a global mechanism for delivering science-based information to decision makers and public.
During the Workshop, all participants discussed issues related to the preparation of the 2nd World Ocean Assessment, such as the outline for the second world ocean assessment, timetable implementation plan, substance of several chapters of the assessment, i.e trends in the state of biodiversity of marine habitats, trends in the state of human society in relation to the ocean, trends in the state of human society in relation to the ocean, changes in coastal and marine infrastructure, changes in capture fisheries and harvesting of wild marine invertebrates, trends in inputs of anthropogenic noise to the marine environment, and development in tourism and recreation activities.
During the opening session of the workshop, Mr. Sadewa underlined that all participants of the workshop had huge burdens on their shoulder to provide the most accurate data that will be used by policy makers all around the world to determine how they are going to treat the ocean. Thus, continuous and comprehensive ocean researches are desperately needed in all region. While co-Chair of the Workshop, Mr. Kalake highlighted the importance of the workshop to facilitate data and information sharing on issues that are already identified in the outline of the 2nd World Ocean Assessment. He was also hoping that the result of the workshop will be fruitful and useful for the next process coming up.
Terkait